holaaaaa
my assessments are done so I can finally write this post 😭☺️
anywayss. The Grammys were one week ago and they were definitely quite interesting. I mean we are in the middle of a pandemic so they did the best they could lol. Last year I woke up extra early and then ended up missing all the important categories and performances because I had school and this year my tv decided not to stream the Grammys at all so I really couldn't win.
and here are my opinions on some of the winners and outfits and stuff just because (I'm only going to talk about the artists and categories I'm interested in, definitely not everybody cause that would make an extremely long post)
**** Before I talk about the winners and random stuff I first wanna say that I'm aware that the Grammys are very often swayed by race and gender so they are often inaccurate (I mean The Weekend didn't even get one single nomination this year which is proof enough) so I mainly just pay attention to the awards for fun and I don't think they are completely amazing and spectacular at all.****
okay RECORD OF THE YEAR was 'everything i wanted' by Billie Eilish which I think was a great song. Should somebody else have gotten the award? Maybe, because it definitely wasn't the biggest song of the year. But do I still think she deserves it? yes. It was still a very great song. and she won record of the year two years in a row yayyyy!!
then the winner for SONG OF THE YEAR (which basically is for best songwriting) was 'I Can't Breathe' by H.E.R. and yeah I think that song deserved to win too. I actually hadn't heard it before but now that I've listened to it I agree.
the BEST NEW ARTIST was Megan Thee Stallion and I don't listen to her music that much (or at all really) but obviously I've heard a bit of it every now and then. tbh I think every artist in that category was great but I was so sure she'd win, glad I predicted it right lol.
annndd the ALBUM OF THE YEAR was 'folklore' by Taylor Swiffftttttt. woohooo. you may not be able to tell but I am very happy about that. folklore is such a well-written and well-produced album and it broke so many records and is all in all just amazing. the lyrics 😭😭😭
'Future Nostalgia' by Dua Lipa won BEST POP VOCAL ALBUM which I find so odd because folklore was also nominated in that category?? and if you win album of the year you most likely would have also won pop vocal album??? anyways, I'm not complaining because I think Future Nostalgia was also one of the best albums of 2020 and the way she made kind of modern disco pop music is awesome. Not gonna lie I think Fine Line deserved to win but it is what it is.
and finally the BEST POP SOLO PERFORMANCE was 'Watermelon Sugar' by Harry Styles. Super awesome for him because that's his first Grammy and that's a big moment. Also I think the production of WS was actually really great. The song itself now gets on my nerves because it was so overplayed but it still is a catchy song so it's all good. I thought Doja Cat would win this and I'm so surprised she didn't win anything since this was such a big year for her.
Let me also talk about the fact that all four of the major award categories (the first four ones I talked about) were won by women 💖✨💐🌷💕🌸 And Beyoncé is now tied for the most Grammy wins (28, are you kidding me) and is the most awarded woman. Oh and that Taylor Swift won album of the for the third time in 3 different genres. Women's history month am I right? yes.
Honestly some of the outfits this year were a teensy bit disappointing but I'll let it slide cause like covid you know? So here are the top 3 looks in my opinion.
Sureeee Dua's red carpet dress was beautiful but I honestly loved this a lot for some reason so I'm keeping it.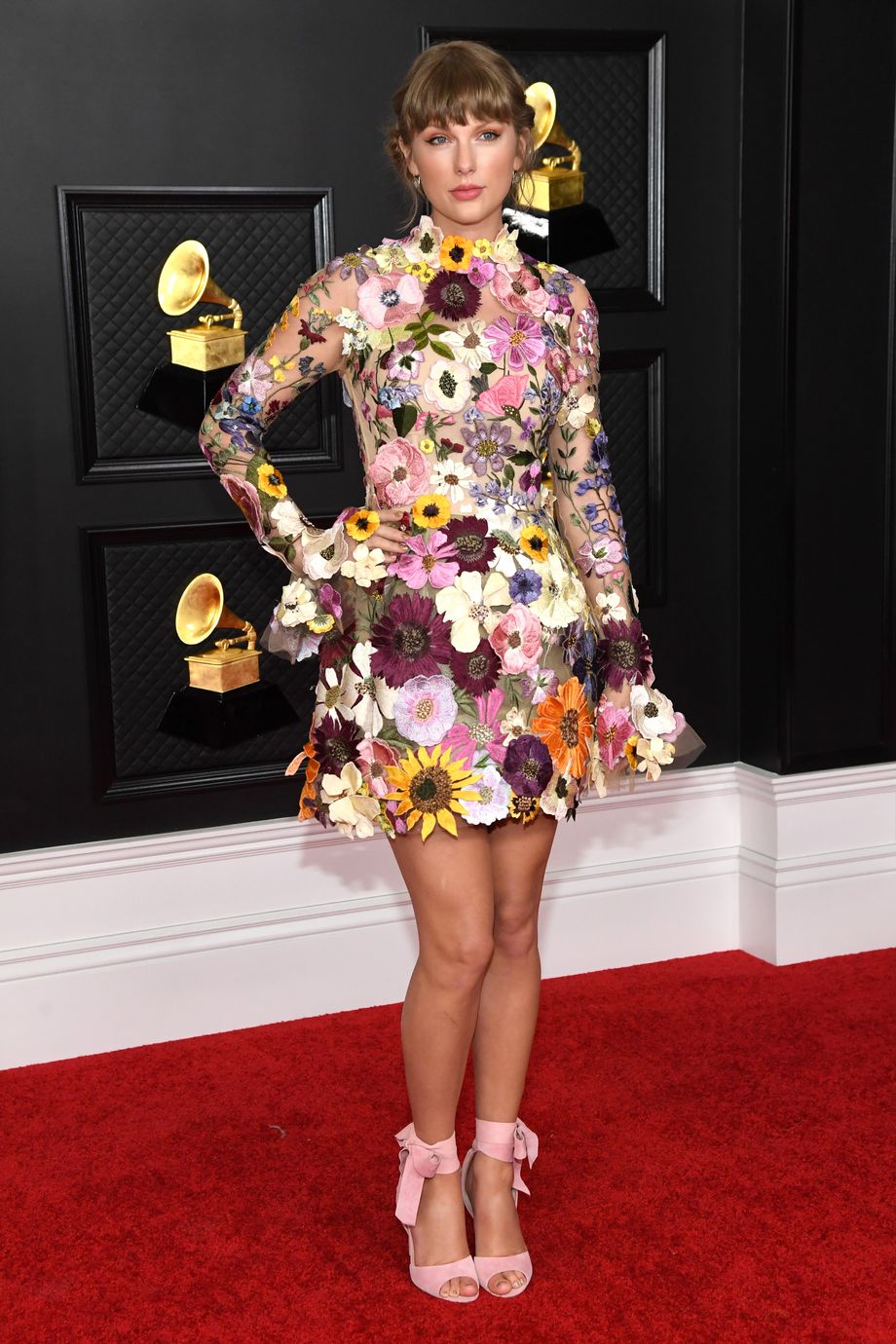 The dress is so cute and spring-y and also I'm just totally in love with the shoes they're so cute omg.
The design! The colour! Idk how she walked around with that huge dress but I mean I definitely applaud her for it.
Just realised all three of the looks I mentioned are pink, oops.
Anywaysss, congrats to anyone who read til the end of this post. It is so random and I don't even know where I was trying to go with it but it was fun to write so that's a success to me.
Talk to me in the comments!!! Let me know if you agree or disagree with anything I've said hehe.
Love, Hreem xx
(p.s. it would mean the world if you checked out my covers <3)